For high quality, excellent service, a wide selection, and reasonable prices, Penrod is your one-stop shop!
Everything you need comes to you in one convenient box.
Select between the bent-strap, top-mount, or straight-strap options to determine the incredible aesthetic look of your barn door—all the mounting hardware you need is included in the box.
TRACK LENGTHS
The 6′ and 8′ are available as sets; the 4′, 5′, 6′, 7′, and 8′ are available individually.
FINISHERS
Stainless Steel • Satin Nickel • Flat Black
SPACERS
We offer 1-3/8″, 2″, and 1/2″ extensions for wall spacers.
Contact us directly for other options that are available via special quotes.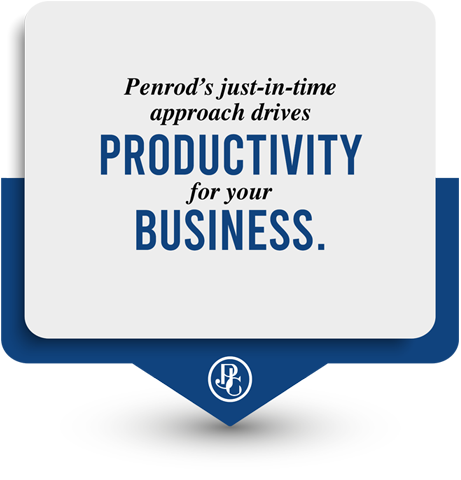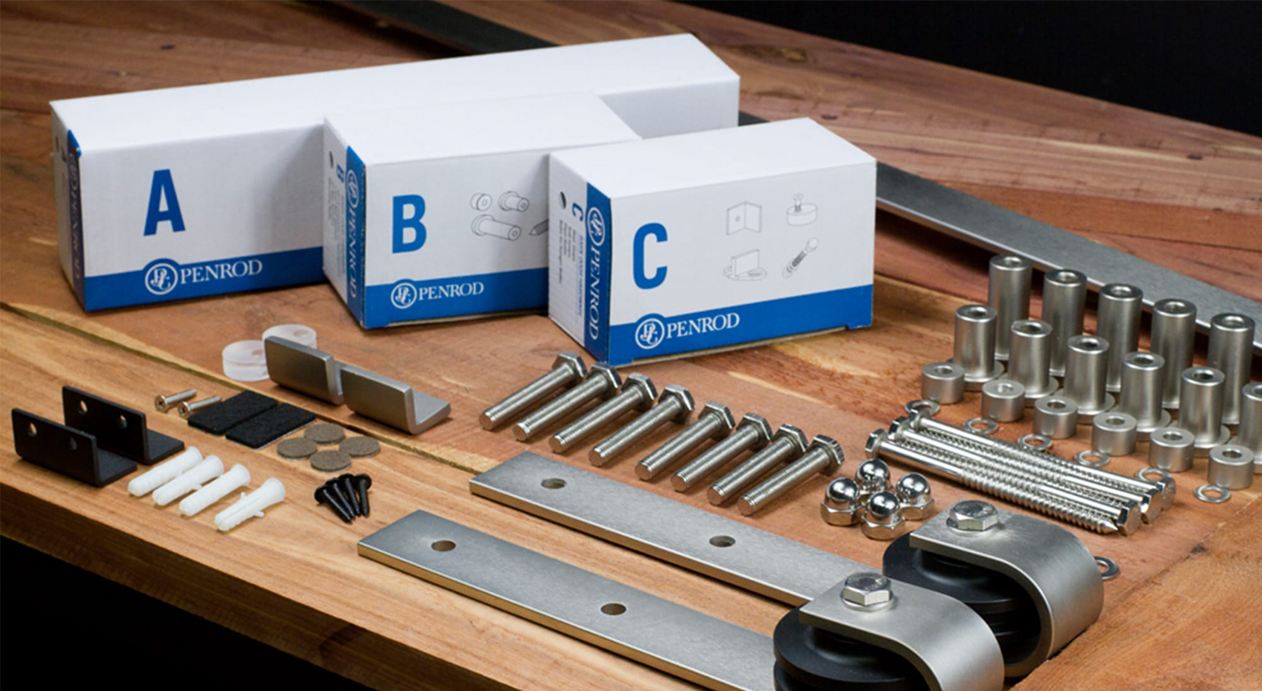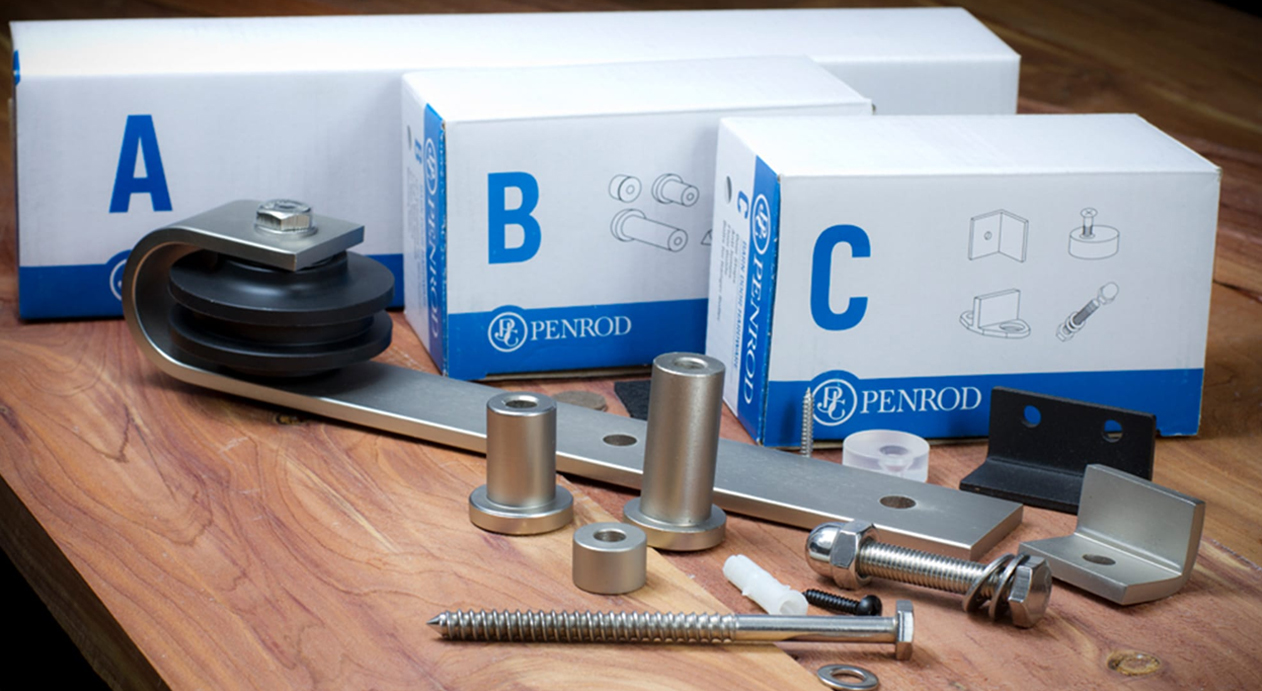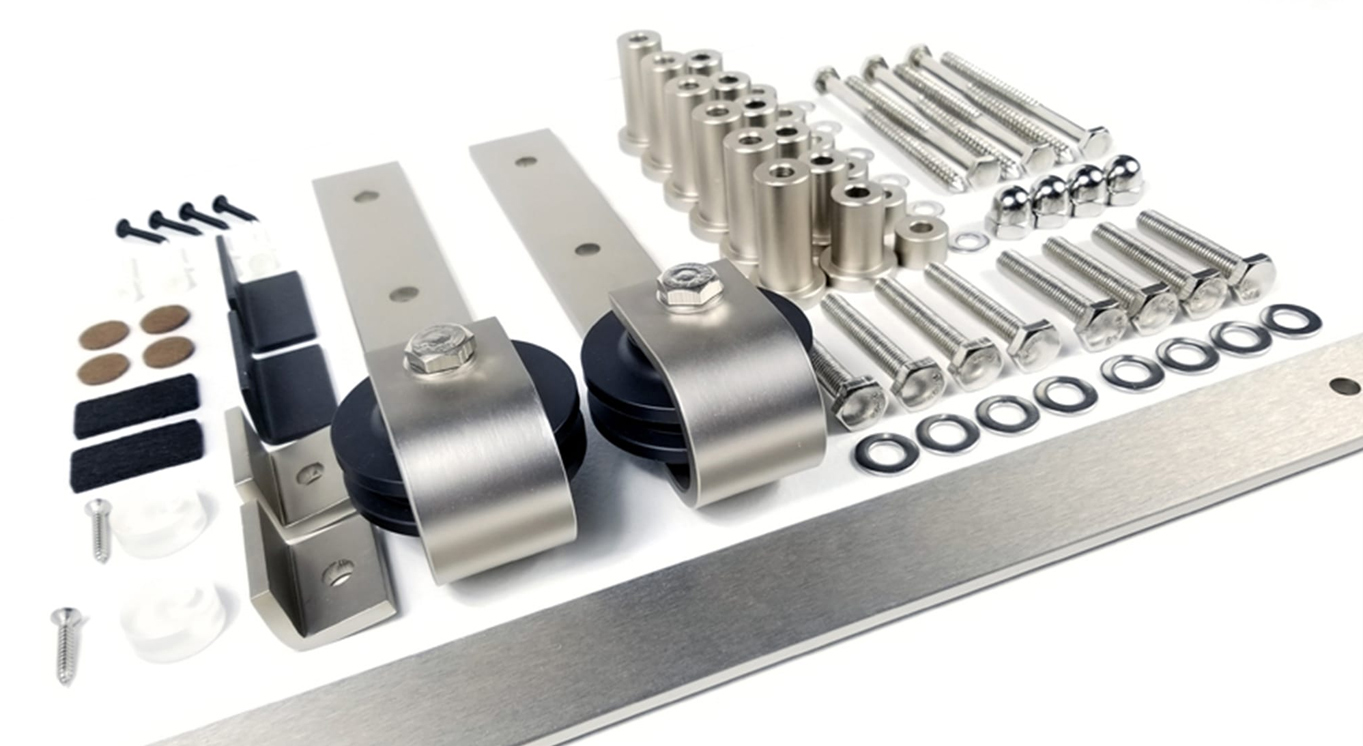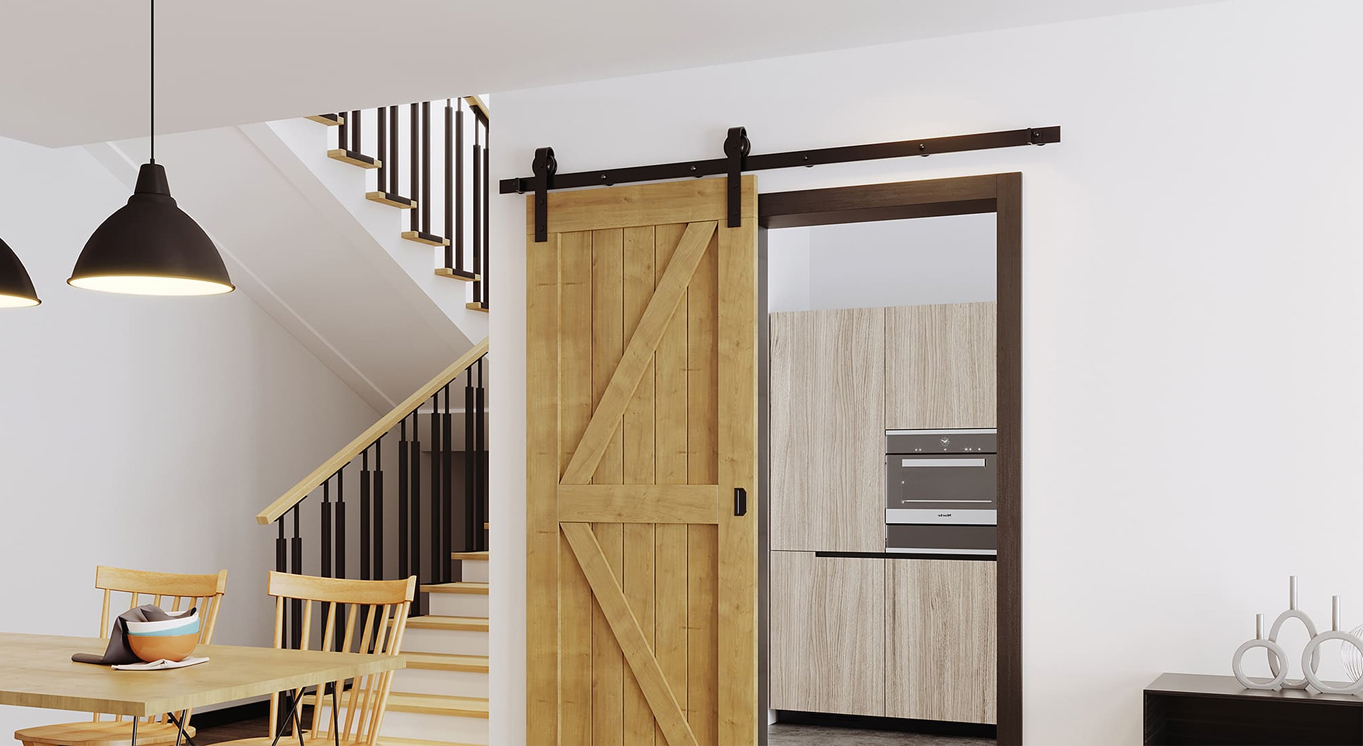 Get your barn-door hardware fast.
You can have the unique look you want soon after you select it: Your barn door hardware, including barn door tracks, barn door handles, barn door pulls, and mounting hardware, will ship within 24 hours after you place your order!
In fact, if you order before noon, your order will ship the same day, in most instances. And with our network of national distributors, most orders arrive in 48-72 hours. We can boast of an on-time fulfillment rate that exceeds 95%, making us the reliable choice for your barn door hardware needs!
What can you do with Penrod's barn-door hardware?
You're only limited by your imagination!
Create room dividers.
Beautify closet and bathroom doors.
Divide your pantry from your kitchen.
Define a laundry room.
Design enclosures for wall-mounted TVs.
As a supplier that deeply understands the principles behind the just-in-time (JIT) approach as well as the importance of a well-managed supply chain, we are committed to providing you with the finest barn door hardware solutions. Our streamlined processes and efficient inventory management enable us to supply barn door tracks, barn door handles, barn door pulls, and mounting hardware precisely when needed, minimizing unnecessary inventory holding costs.
For you, this means the confidence to order in smaller, more frequent batches, using our reliable delivery of barn door hardware and accessories to free up your cash resources and concentrate on boosting your productivity. Our tailored approach allows you to maintain a lean inventory while ensuring your operations continue to run smoothly.
Our dedication to quick service and flexibility ensures that we work in close partnership with our clients, facilitating the integration of Penrod's top-quality barn door hardware into your supply chain with maximum efficacy and minimal delay. Trust in us to be your reliable partner in JIT and supply chain management, as we are dedicated to meeting your unique requirements with speed and accuracy.
Penrod is the most capable, experienced, and reliable supplier of high-quality components to door manufacturers and the millwork industry.
We invite you to tie your success to ours—together, we can reach new profitable heights.
Please download the installation instructions here.
Barn door hardware adds a touch of rustic charm and character to any home, enhancing its aesthetic appeal with a unique and eye-catching feature.
Freight policy facts for our same-day processing of your order:
Item categories can be mixed to create an order that qualifies for prepaid freight.
Our prepaid freight minimum is $800.
You can add a variety of other door components to your order to meet the minimum threshold.
This money-saving option, coupled with our on-time delivery rates of 95% or more, allows you to leverage your cash resources elsewhere and focus on what you do best.
Take advantage of this opportunity to simplify your operation with our comprehensive range of barn door hardware, including barn door tracks, barn door handles, barn door pulls, and mounting hardware. By cutting down your order processing time and optimizing your receiving, you'll achieve greater productivity. You can concentrate on design, construction, and efficiency, while we maintain a smooth supply chain.